COVID-19 News and Views from a socially distanced scientist
Published:
As of March 19, 2020 it's been about a week since widespread closures began in my area—Ann Arbor, Michigan. It's been 8 days since the World Health Organization declared a pandemic. I'm continuing to curate the top (in my mind) science news and resources here on the blog. You can see my first few days of updates here! I'm trying to add explainers for non-scientists and adding my take on the significance of findings when possible. As with anything on the internet, readers should take my interpretations and editorializations with an ounce of skepticism. What started as advocating for a few weeks of social distancing, now looks more like an effort to present relevant science as humanity battles a potentially long-lasting pandemic. I hope it helps in some way.
March 21, 2020 Update
First, an important call to action. Personal pleas from health care workers regarding the lack of personal protective equipment (PPE) have me very worried. As do articles by the NY Times and Forbes. While there are contingency strategies from the Food and Drug Administration (FDA), this will not keep our healthcare workers adequately safe. Harvard estimates indicate our hospitals will likely be at capacity or above capacity for months to come—see the figure below. It is unconscionable to not take care of the health professionals at the front lines of critical care. There is a petition you can sign. The Coalition to Protect America's healthcare has an easy way to send messages. In addition, the American College of Emergency Physicians has a website allowing physicians to easily send an email to elected officials. Based on that, I've provided an example script you can adapt for email or use to call your representatives.
Hello, I'm FIRST,LAST and a constituent from TOWN/ZIP. I am reaching out to ask REPRESENTATIVE NAME to provide urgent help for health care workers on the front lines of caring for COVID-19 patients. Emergency physicians and health systems currently face severe shortages of personal protective equipment like N95 masks that will leave many health professionals insufficiently protected in the midst of this outbreak. We need to take action now to fill this gap with every resource we have available, including from the Strategic National Stockpile (SNS). Although the Administration announced that PPE production is ramping up, doctors need these supplies now, and will need significantly more as cases multiply. In order to ensure that emergency physicians and other frontline healthcare providers remain healthy and able to continue to provide vital patient care, the Administration and Congress must exhaust every option available to increase PPE production and prioritize distribution to emergency physicians and other frontline providers. I ask REPESENTATIVE NAME to urge their colleagues and the Administration to immediately address the PPE shortage. Thank you for your hard work answering the phones.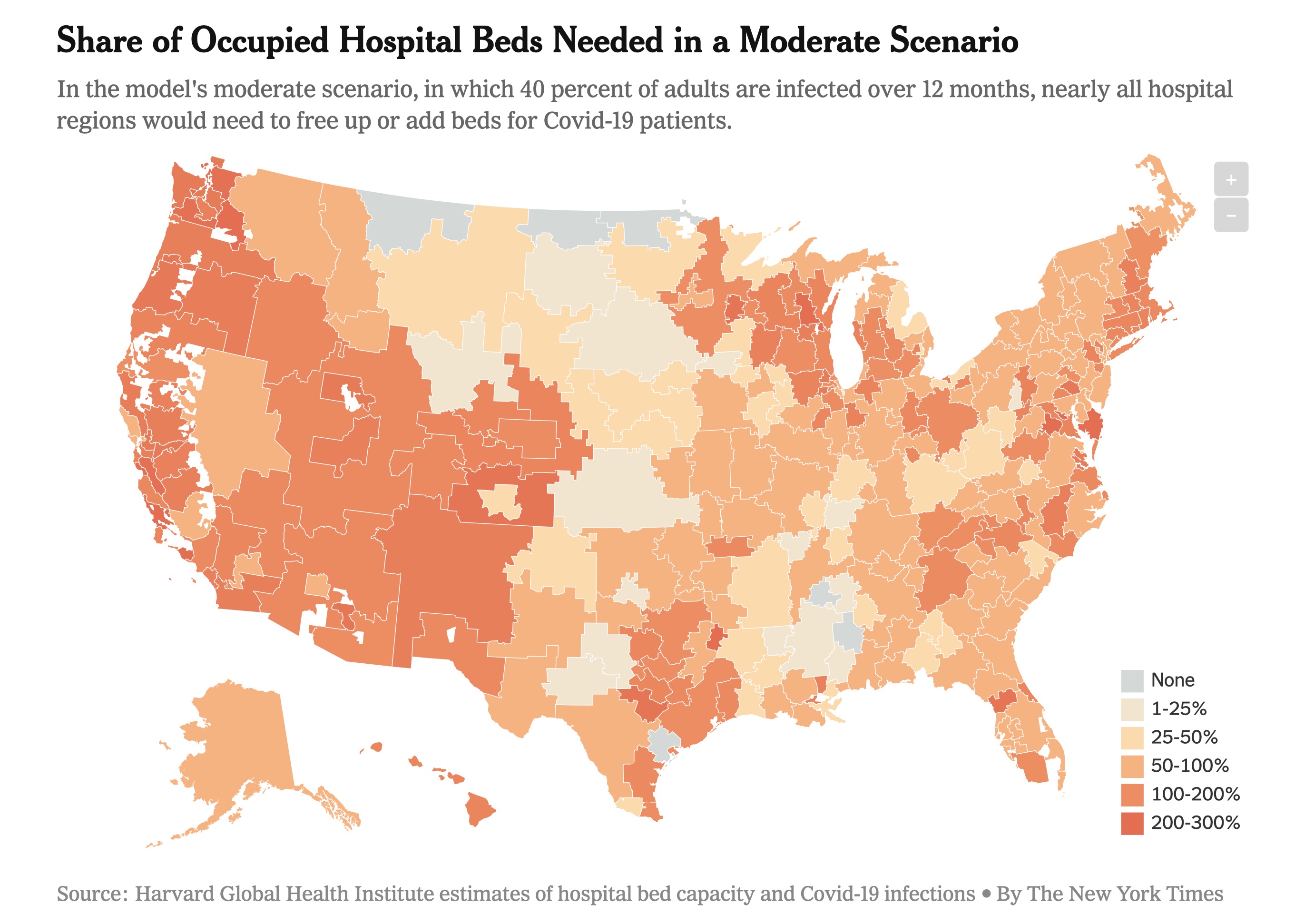 If 40% of adults are infected over 12 months our hospitals can barely stay under the threshold of 738,000 hospital beds in the U.S. Hopefully this is a worst-case scenario since the model does not take into account the efforts hospitals can make to quickly increase capacity during an emergency. But based on reports of what is happening to Italy's health care system, this is what we are trying to avoid.
News & Views from my sofa:
March 20, 2020 Update
I want to start with a little explainer on coronaviruses. It's plural because multiple types exist! We've known about them since the 1960s. Coronaviruses usually cause infections in birds and mammals, and were responsible for the severe acute respiratory syndrome (SARS) outbreak in 2003 and the Middle-East respiratory syndrome (MERS) in 2012. The virus SARS-CoV-2 is responsible for the current pandemic, and is a new, or novel, coronavirus. It is called coronavirus because there are crown-like spikes on the virus surface, and corona means crown in Latin (and Spanish, hence the Corona beer logo). These spikes are critical for the virus' entry into a host cell. Here is info about naming conventions of viruses and their associated diseases. Here is a scientific review article from 2016 on coronaviruses.
An important correction to March 19's update which I've made in the text below. Some evidence shows the O blood group is at a lower risk, not higher risk of COVID-19.
Here are the latest news & views from my home office:
March 19, 2020 Update